People have been forced to choose laptops with large screens due to the popularity of streaming platforms and online content. Importantly, the Asus ExpertBook B5 Flip (B5302) serves as a reminder that a 13-inch screen is sufficient for everyday use.
In addition, it provides the ease of use and portability that the majority of contemporary laptops lack. This Asus convertible laptop can double as a traditional notebook or tablet, as the name suggests. The laptop is intended primarily for professionals in the workplace, but it should also be appealing to students and other users.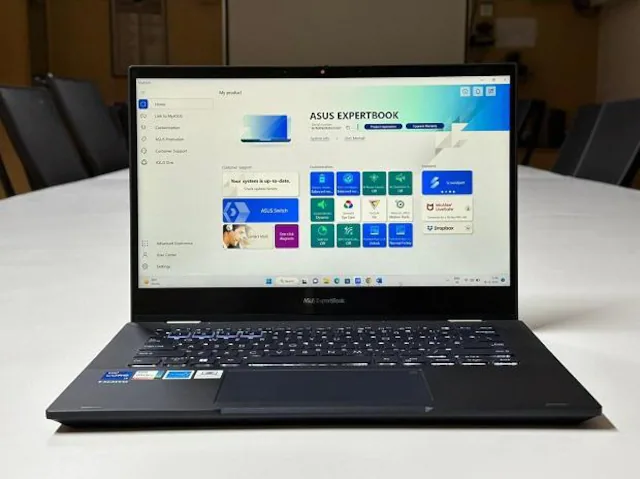 In India, its starting price is Rs 1,39,900. This notebook is definitely not the most affordable. The configuration may influence the price. The model I received for review has an OLED display that supports native pen support, an Intel Iris Xe G7 graphics processor, 16GB of RAM, and a 512GB NVMe SSD.
One of the qualities of Asus B5 is its light weight. Because of this, it may be an excellent choice for anyone who is able to afford this laptop. Let's investigate in depth.
Asus ExpertBook B5 Flip review
With the introduction of its ExpertBook series of laptops in 2020, Taiwanese electronics manufacturer Asus entered the Indian market for commercial PCs. Since then, it has updated the line on time and introduced new models in a variety of price ranges.
The Asus ExpertBook B5 Flip is a new laptop with 12th-generation Intel Core processors that is thin and light. The Asus ExpertBook B5 Flip is an enterprise-focused laptop with security features, numerous I/O ports, scalable storage and memory options, and a compact chassis that has been military-grade certified for durability.
Asus has taken no shortcuts when it comes to security, which is essential for laptops intended for businesses. The TPM 2.0 (Trusted Platform Module) option is available on the ExpertBook B5 Flip. Secure user authentication and remote access to corporate intranets are made possible by this tiny chip, which keeps the integrity of the system intact. In addition, a Kensington nano lock slot prevents physical theft from unsupervised locations of the PC.
In addition to these two hardware-level security features, the power button has a fingerprint sensor and HD infrared camera for Windows Hello, a secure biometric login system. There is also a privacy shutter on the camera. The built-in RJ45 LAN port allows for the MAC binding that is required in some workspaces to grant access to specific files and data.
When it comes to ports, there are plenty of both traditional and contemporary options, including two USB-C Thunderbolt 4 ports, one USB 3.2 Gen 2 Type-A port, one USB 2.0 Type-A port, one HDMI 2.0 port, and one Combo audio jack port. A volume rocker button can also be found on the left side of the chassis. It works well, especially when used as a tablet. The options for wireless connectivity—Wi-Fi (802.11ax) and Bluetooth 5.2—complete the set.
Concerning the display, the Asus ExpertBook B5 Flip has a 14-inch fullHD IPS touchscreen with a 16:9 aspect ratio and a refresh rate of 60 Hz. The screen is surrounded by thick bezels, especially on the bottom. In terms of both aesthetics and functionality, a screen with a taller 16:10 aspect ratio might have been a good fit in this situation.
Despite this, the screen is responsive, bright, and vivid. The laptop can switch between tablet and tent modes thanks to its 360-degree flexible hinge. Dual stereo speakers on the bottom of the chassis provide audio coverage. Dolby Atmos enhances the speakers' fuller sound for a surround sound experience.
However, the sound quality is compromised by flat surfaces like tabletops.
The keyboard on the Asus ExpertBook B5 Flip is backlit. It is a full-size keyboard with numeric 1-4 keys and arrow keys for dual-purpose function keys. Keys on the keyboard are spaced apart. It has a spill-proof design to protect against small spills of liquid. The travel is satisfactory and the keys provide excellent tactile feedback. A trackpad, which doubles as a capacitive numerical keypad, is included alongside the keyboard. The touchpad upholds the press instrument, however the press is on a firm side.
The Asus ExpertBook B5 Flip performs exceptionally well. It is a capable Windows 11 laptop designed for work that performs well. It starts up quickly, does not warm up to the point where it is uncomfortable to use, and runs silently even when the built-in fans are running at their maximum speed.
The primary 8GB DDR5 RAM that is soldered onto the board of the laptop is the dual-channel RAM. Up to 32GB of DDR5 (4800Mhz) RAM can be inserted into the secondary SO-DIMM slot, bringing the total amount of RAM to 40GB. In terms of storage, there is room for two 2 x PCIe4.0 drives that can hold up to 4 TB of data.
The numerous software-centric features that Asus provides to enhance the overall experience complement the performance. For instance, there is MyAsus application through which clients can customize pretty much every part of the PC – from execution to general media and availability.
The package concludes with a short on-battery time of approximately six hours under normal usage with balanced mode performance. It's not great, but it's enough for people who occasionally need to work while on the go. The USB-C charger that comes with the device charges quickly, replenishing the completely depleted battery in about an hour.
FAQ
Is it worth purchasing the Asus expertbook B5 flip?
If you can afford it, the small and lightweight Asus ExpertBook B5 Flip laptop is ideal for students and professionals in business. The Asus ExpertBook B5 Flip can work as a tablet as well. Asus ExpertBook B5 Flip is incredibly lightweight and simple to convey. It has a great display and a keyboard that is big enough to work on.
What is the Asus expertbook B5 flip's (b5302f) resolution?
Samsung ATNA33XC11-0 (SDC4158) is the Full HD OLED panel on the ASUS ExpertBook B5 Flip (B5302F). It has a 13.3-inch (33.78-cm) diagonal and a resolution of 1920 x 1080p. Additionally, it has a 16:9 aspect ratio, a pixel density of 166 ppi, and a pitch of 0.15 0.15 mm.
Is there a USB Type-C port on the Asus expertbook B5?
Even with heavy use, the Asus ExpertBook B5's battery life can easily last a full working day. What's handier are the two Thunderclap 4 USB Type-C ports that likewise act as power input ports for the PC. This means that you can charge your laptop with almost any modern phone charger.
Why are Asus laptops so excellent?
The numerous software-centric features that Asus provides to enhance the overall experience complement the performance. For instance, the MyAsus app allows users to customize almost every aspect of the laptop, including connectivity, audio-visual features, and performance.
Conclusion
The Asus ExpertBook B5 Flip is a laptop designed for businesses and is eligible for Asus' custom configuration service. As a result, neither its configuration nor price are set in stone. However, Asus stated that the laptop's standard package begins at Rs 1,15,000.
All things considered, there isn't anything missing here: The laptop is built well, has a good screen, a backlit, spill-resistant keyboard and touchpad, and a lot of I/O options, both old and new. If you're looking for a small work laptop, this is a compelling option.